Calculators
Apex Legends Sensitivity To Overwatch 2 Sensitivity Calculator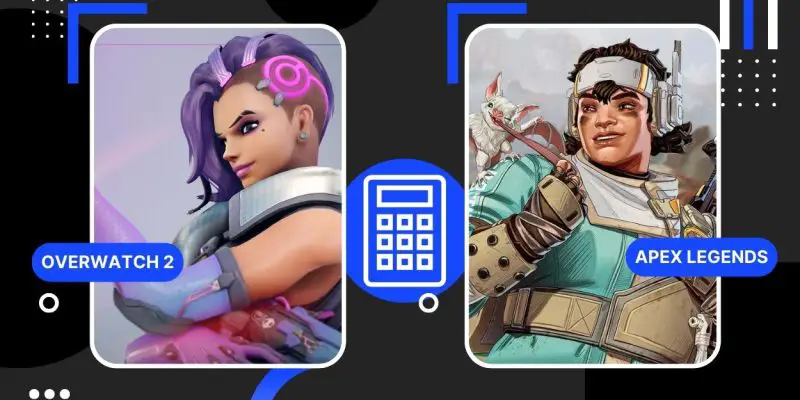 If you're a fan of both Apex Legends and the Overwatch series, you may have noticed that the sensitivity settings in the two games can feel quite different. This can be frustrating if you're used to one sensitivity and then try to switch to the other game, as it can take some time to get used to the new sensitivity.
Fortunately, there are tools available online that can help you convert your Apex Legends sensitivity to an Overwatch sensitivity or vice versa. Our calculators allow you to input your sensitivity settings from one game and then see what the equivalent sensitivity would be in the other game. This can make it easier to switch between the two games without having to constantly adjust your sensitivity settings.
Apex Legends To Overwatch 2
Overwatch 2 To Apex Legends
What Is Apex Legends?
Apex Legends is a free-to-play first-person shooter battle royale game developed by Respawn Entertainment and published by Electronic Arts. It was released for Microsoft Windows, PlayStation 4, and Xbox One in February 2019. The game features a cast of unique characters, or "Legends," each with their own abilities and attributes, and tasks teams of three players with fighting to be the last squad standing on an ever-shrinking map.
What Is Overwatch 2?
Overwatch 2 is a first-person shooter game developed by Blizzard Entertainment, set to release in 2022. It is a sequel to the 2016 game Overwatch. The game features a shared environment for player-versus-player (PvP) modes and introduces persistent cooperative modes. The game will have a reduced team size from six to five players, and several major characters are being reworked. Overwatch 2 will be free-to-play on a variety of platforms and will include full cross-platform play. The game will feature a roster of 35 characters, divided into classes of damage, support, and tank, each with unique abilities. The game will primarily focus on PvP combat across different modes and maps, and will include both casual and ranked competitive matches. The game will also introduce a new mode called "Push" and include player-versus-environment (PvE) game modes such as story-based mission mode and hero missions.
What is Sensitivity?
Mouse sensitivity refers to how sensitive the cursor or crosshair is to the movement of the mouse. In other words, it determines how far the cursor or crosshair will move on the screen in response to a given movement of the mouse. Mouse sensitivity is usually measured in dots per inch (DPI) or counts per inch (CPI), which refers to how many pixels the cursor or crosshair will move on the screen for every inch that the mouse is moved. A higher sensitivity will result in a larger movement of the cursor or crosshair on the screen for a given movement of the mouse, while a lower sensitivity will result in a smaller movement.
Also Read:
How to Convert Sensitivity Between Games?
Our calculators can help you convert your sensitivity settings from one game to another. To use one of these calculators, you'll need to input your current sensitivity settings and the calculator will give you the equivalent sensitivity in the other game.
It's worth noting that sensitivity can feel different in different games even if the settings are the same, so it may take some experimentation to find the best sensitivity for you in each game.