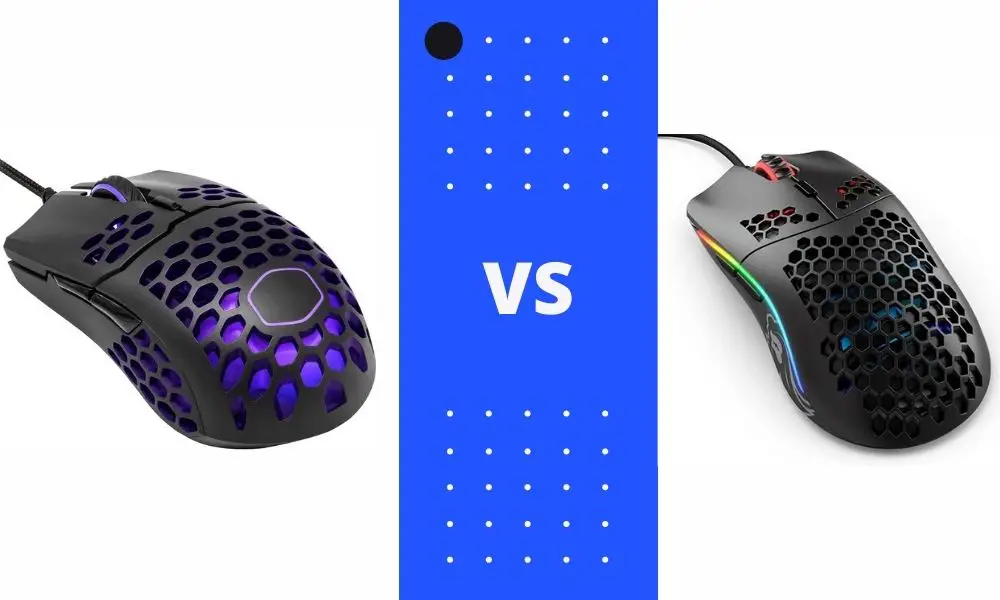 The Cooler Master MM711 mouse is the same as the Glorious Model O-. They are both ultra-light gaming mouse with unique honeycomb patterns, although the Cooler Master MM711 is slightly heavier than Model O-. The performance of both mouse is almost the same, the MM711 mouse can be customized to have a better CPI. The Model O- mouse feels slightly better built, but it is a bigger mouse that is best suited for all those with bigger hands, while the other will be best for people with small to medium hands.
EDITOR'S CHOICE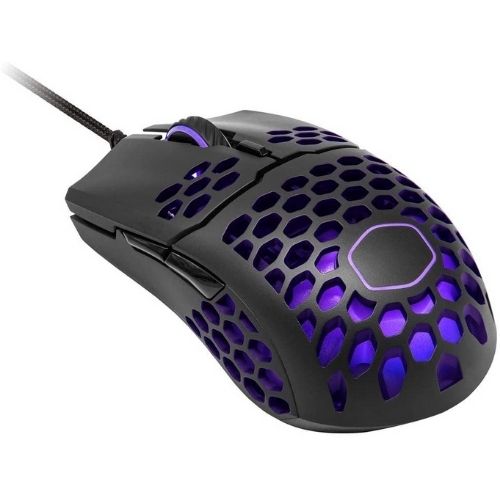 Cooler Master MM711
Stylish RGB Lighting
Glides smoothly
Ultraweave cabling
Lightweight, only 60g
PREMIUM PICK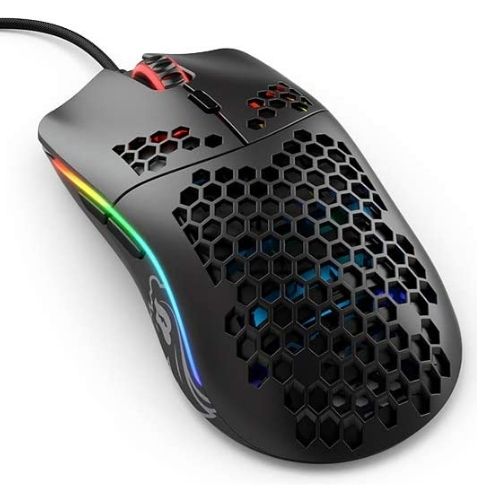 Glorious Model O minus
Low click latency
Feels very well-built and solid.
Super lightweight
Extra large PTFE feet
Design and Build quality
The build quality of the Glorious Model O- feels good with smaller perforations on the frame and no-rattling in the internals. Though, the internal parts on the Cooler Master are coated to protect against moisture and dust. Cooler Master has strengthened the body so that the sides do not fix as great as the pre-production variants, and the buttons do not have very much sway right and left, but the rattle is still present.
As I mentioned before, both have come with a honeycomb design and they're very lightweight. Weight and size are probably why these 2 models are getting so much attention. Cooler Master on my scale is just 66g, while Glorious Model O minus is 8g lighter. Overall though, it'll definitely be the design that'll push you towards one of the other.
The Glorious Model O minus is slightly skinner, it is shorter and it is longer, so it is true for small hands. While the Cooler Master MM711 is taller and wider, which with my hand grip is actually comfortable because the back curve design is not as much plane as the Model O.   They're both ambidextrous styles with thumb keys just left side, and though the Glorious Model O- didn't quickly feel as smooth as the Cooler Master I was pretty comfortable with after using it for a couple of days.
DPI and Software
Now performance wise the Cooler Master MM711 mouse has a higher-end PIXART 3389 sensors with 400, 800, 1200 (default), 1600, 6400, and 16,000 DPI levels, while the Glorious Model O- is rocking the PIXART 3360 with 100-12,000, and it comes with 4 default levels that are adjusted to 400, 800, 1600 and 3200 out of the case. It's very difficult to distinguish among either as they are both superb and the best extension for your hand for the perfect aim.
The LOD (lift off distance) for both is extremely low around 1mm and both are remarkably fun to use. If the body form fits your hand size and style of grip, which means the style of a fingertip for the Glorious Model O mouse and hybrid palm for the Cooler Master MM710. Some interesting bits are both have some internal memory built-in, so when you configure the software you can turn the mice to another PC without needing to reinstall the tool.
By the way both applications functionally great, like remapping your keys, de-bounce time adjustments, recording macros, and 2 lift-off distance setting. You can additionally add surface tuning with the Cooler Master MM710 that might optimize the LOD for the particular mice mat, but that is about it.
Optical Sensor
Both models use an optical sensor from PIXART. Cooler Master MM711 uses PIXART 3389 optical sensor, on the other hand, Glorious model O- uses PIXART 3360 optical sensors, which still one of the finest optical sensors around right now.
It has no acceleration or jitters and a low LOD of around one millimeter. I was also not able to make the sensors spinout even while swiping really quickly, so you'd have no problems even if you play the game at low sensitivities.
With DPI 12000 and 16000 PIXART optical sensors, the lag and stutters on Model O- and MM711 are extremely minimal. Also, it extremely accurate due to its decreased weight. Gamers can also adjust mice's precision and speed through DPI in real-time.
Price
The price of the Cooler Master MM 711 and Glorious Model O- mice is around 75 USD. The packaging of the Glorious Model O- is very impressive for the price point and it truly stands out. By comparison with Cooler Master's presentation, does not even deserve a mention.
Connectivity
The connectivity on both models is extremely fine. It's a shoelace like a paracord on the Glorious Model O minus, while the Cooler Master MM711 has a more condensed Ultra weave that's also a shooter and comes with a purple color USB port.
I personally do prefer the cord on the Cooler Master as it does not kink as easily as the Glorious Model O-, plus it is slightly bulky. The feet on both mice are white PTEF, but they're superior quality to the Glorious Model O-, they just feel slightly smoother compared to the Cooler Master MM711. The MM711 does however comes with an extra replacement set of feet that are great.
Conclusion
I wish to conclude by saying that both models are amazing and they're catered to different grip styles and hand sizes. For me, Cooler Master is slightly better and it is all about performance without bling. On the other side, the Glorious Model O- is a great release to accommodate smaller hands with fine fingertips grip without compromising on build or the design elements.
I am really happy that we've such great competition in the gaming mouse section, and I was not hopping MM711 to deliver on their promises with the Cooler Master, but the scroll wheel and wire are best on the MM7711 model, while Model O- is all about RGB, compact size, and truly incredible quality.