Reviews
5 Best Steelseries Mouse in 2022 – Find Your Perfect One
Do you play an incredible driving shooter where every second is filled with action or an RPG where the right strategy will lead to victory? Or maybe you are a fan of MOBA games and are ready to destroy the enemy with your invincible strategy? It doesn't matter, because each of the games requires a good reaction and skill from the gamer.
Today we will talk about one thing, the choice of which cannot be neglected. The mouse is an instrument of power and strength of the gamer in the gaming space. Many do not pay due attention to its choice, and, having brought home a compact wireless mouse, they are disappointed at how reckless it was to take it for fast and active games, where a moment of delay can lead to a loss.
Today we will consider the best mouse from the famous manufacturer Steelseries.
Best Steelseries Mouse
EDITOR'S CHOICE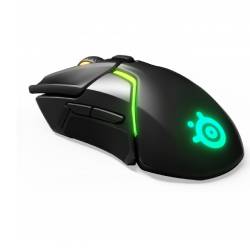 SteelSeries Rival 650 Mouse
Quantum Wireless technology
24+ hour battery life
SteelSeries' most advanced optical sensor, TrueMove3+k
Ultra durable gaming switches guaranteed for 60 million clicks
PREMIUM PICK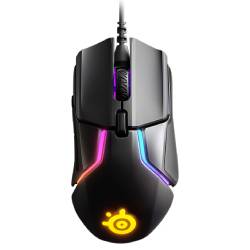 SteelSeries Rival 600
Split trigger 60 million click mechanical switches
256 center of gravity weight tuning configurations
Premium magnetic wrist rest
Cable length 2 meter / 6.5 foot
ADVANCED PICK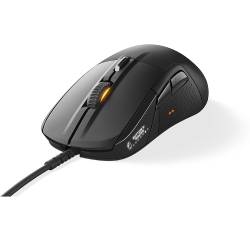 SteelSeries Rival 710
Immersive tactile alerts
Advanced precision optical gaming sensor
Swappable modular parts
350 IPS optical sensor
EDITOR'S CHOICE
Sensor: SteelSeries TrueMove3+
Weight: 121 g / 4.2 ounces without cable
Illumination: 8 independently controlled RGB Zones
Size: Length: 131 mm / 5.2 inches, Width: 62 mm (front) 62 mm (middle) 69 mm (back) 2.4 inches / (front) 2.4 inches (middle) 2.7 inches (back), Height: 27 mm (front) 43 mm (back) / 1.1 inches (front) 1.7 inches (back)
The best wireless gaming mouse of 2021 is the SteelSeries Rival 650 Wireless model from the manufacturer, which has already gained some popularity in the manufacture of luxury headphones, and not only. As for the mouse, it should be noted that it is really a high-performance product, which is not typical for this type of connection. Thanks to Quantum Wireless technology, it supports an amazing 1000 Hz frequency without any delays. Quick charging enables you to restore the headset's power reserve in just 10 minutes, for up to 10 hours or more. The high accuracy is guaranteed by the TrueMove3 optical sensor. Up to 256 different weight configurations and balance options are available.
PREMIUM PICK
Sensor: SteelSeries TrueMove3+
Weight: 96 g / 3.3 ounces without cable
Illumination: 8 independently controlled RGB Zones
Size: Length: 131 mm / 5.2 inches, Width: 62 mm (front) 62 mm (middle) 69 mm (back) / 2.4 inches (front) 2.4 inches (middle) 2.7 inches (back), Height: 27 mm (front) 43 mm (back) / 1.1 inches (front) 1.7 inches (back)
After a year since the SteelSeries Rival 600 was released, it has not lost its relevance. And what does it have to offer at the moment? Firstly, the unique TrueMove3+ sensor system with sensors, where the main sensor has a high resolution of up to 12,000 CPI, tracking accuracy of 1 to 1, and an additional sensor registers the breakaway distance. Secondly, it has a nice appearance with bright, customizable backlighting. Third, excellent ergonomics along with the overall quality of execution and the ability to adjust the mass of the manipulator. But more importantly, the mouse has excellent functionality. It allows it to feel equally well both in simple everyday work, and in any modern games.
The optical sensor used in the Pixart PMW 3360 shows excellent speed and accuracy on all types of surfaces. It's immediately worth remembering the six keys, which can be easily reconfigured to suit your needs thanks to the proprietary software. The latter gives access to all manipulator parameters and allows you to save / load the setting profiles in the internal memory.
Summing up, we can say that the SteelSeries Rival 600 gaming mouse is undoubtedly an excellent choice for a comfortable pastime and gaming component of a real gamer.
BEST FOR FORNITE
Sensor: TrueMove Pro optical gaming sensor
Weight: 92g (3.25oz) without cable
Illumination: 2 independently controlled RGB zones
Size: Length 126mm / 4.96 inches, Width: 63mm / 2.48 inches (front) 68mm / 2.67 inches (back), Height 21mm / 0.83 inches (front) 39mm / 1.54 inches (back), Rubber Cable Length: 2m / 6.75 feet
The revival of the classic Sensei in the form of Ten model is a very right step by SteelSeries, which has long been expected by fans of this brand. It is a pity that it is difficult to call it timely, because competitors have already several years ago managed to release on the market similar, and sometimes the best models in this form factor and with similar parameters of the sensor.
So, is it better than it was? Yes. Sensei Ten's mouse received an excellent optical sensor, reinforced main switches, more wear-resistant coating and adequate cable. The overall weight of the device was slightly reduced.
What has not changed? The classic symmetrical shape of the Sensei case, which many players liked so much, remained exactly as it was.
Are there any negative changes? The OLED screen on the base has disappeared (but this is more of a plus than a minus). Otherwise, Sensei Ten has no significant problems. It is possible to get into trouble with the soft-touch coating, not everyone will like it. The Sensei Ten has no breakaway height adjustment, no spare feet in the kit. In addition, SteelSeries should seriously consider the quality of the signal cable and make it softer, because it is a tangible moment for those who play tightly in the competitive genre of FPS.
For those who liked the old versions of this mouse, the new Sensei Ten will be simply delighted. If it's the first time you've chosen a mouse of this shape, Sensei Ten is a worthy offer, but before buying it, you should first consider similar models of the nearest competitors to make a balanced and optimal choice for your real needs.
BEST BUDGET GAMING MOUSE
Sensor:SteelSeries TrueMove Core
Weight:77g (2.7oz) without cable
Illumination: 3 independently controlled RGB zones
Size:Length: 120.60mm / 4.75 inches, Width: 58.30mm / 2.30 inches (front) 67.00mm / 2.64 inches (back), Height 21.50mm / 0.85 inches (front) 37.90mm / 1.49 inches (back), Rubber Cable Length: 1.8m / 6 feet
What kind of impressions did SteelSeries Rival 3 leave behind? Let's say, of all the budget mice from famous brands that I've come across in the last couple of years, it was him who seemed the cutest in terms of the set of qualities. What pleases me most about this mouse is the quality of its body and coating, switches and wheels. It all makes a good impression and behaves exactly as it should from the first moment you take the device in your hand. It does not squeak, hang or crack. There are questions about the sensor, but its level is more than enough for ordinary players who do not want to set records in the eSports arena.
Among the disadvantages most striking is a very simple and budget cable. It is probably the weakest point in the whole device. On the sensor side, it may be a high breakaway height that annoys active players.
SteelSeries Rival 3 is a kind and relatively inexpensive medium level mouse, which can be a great gift for a novice player. Or the choice of those who are tired of bad quality, but see no practical sense in overpaying for top offers from leading brands.
BEST GAMING MOUSE
Sensor:SteelSeries TrueMove3
Weight:135 g / 4.8 ounces
Size:Height: 124.8 mm / 4.9 inches, Width: 72.6 mm / 2.85 inches, Depth: 42 mm / 1.7 inches
It's easy to say that RIVAL 710 from SteelSeries has raised the quality bar for manipulators even higher. Yes, the mouse is not cheap, but the functionality it has is already worth the investment. The device is reliable, modern, productive and has a lot of settings for the most demanding player.
Stable and modern sensor TrueMove 3 does not give out any errors and behaves perfectly. Its accuracy at the moment has a high sensitivity, and it's just a pleasure to share it with your opponent. The resource of the switches under the buttons has been increased to 60 million keystrokes, which can't help but delight fans of frequent shooting.
Due to its quality coverage and shape, it lies confidently in your hand and has a convenient location of keys. The modular format and the resulting consequences allow you to expand and change the capabilities and functionality of the mouse, which makes it more convenient and customizable for your needs. Of course, the OLED display and tactile feedback are controversial improvements, but they don't interfere, but rather add extra pleasure to the SteelSeries RIVAL 710 gaming mouse.
In a 50+ user poll on Reddit, the Sensei Ten was chosen as the best mouse for RTS games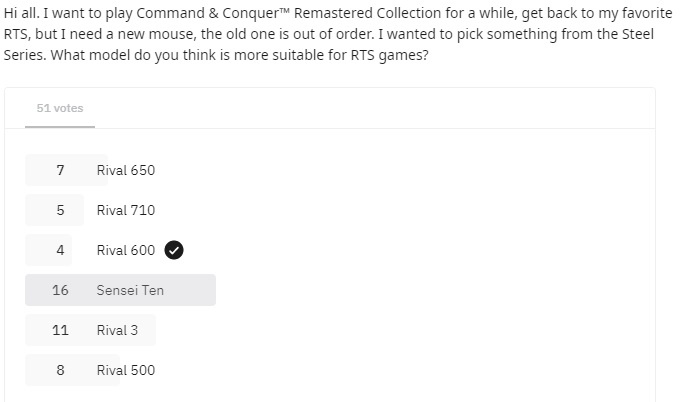 We use affiliate links and may receive a commission on purchases. Read more here.